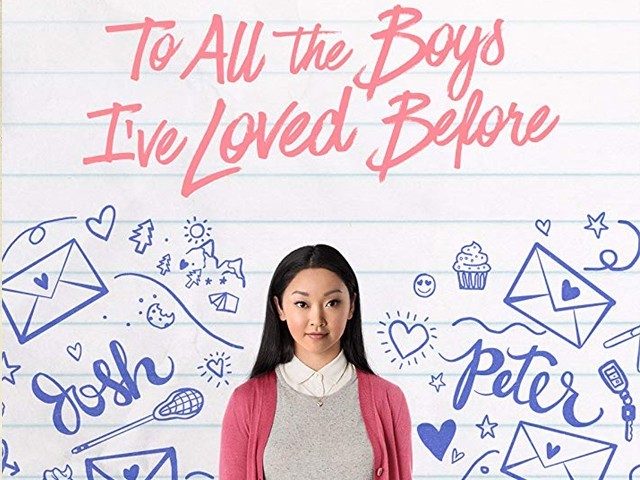 Although the book (and film) came out quite some time ago, To All the Boys I've Loved Before recently came on my radar. I'd watched the film months ago, but for some reason it came back in my mind.
No idea why, considering I found the film cute, but breezy (and Noah Centineo isn't that hot)…but perhaps it's because I'm a romantic at heart, and I have a wild imagination, many "what if" scenarios that could happen anytime in the distant future.
TALTBILB also got me thinking of my own crushes I've had throughout my childhood until now, all of them tragically unrequited. It's made even more complicated that I– as a girl– like girls. And I'm pretty sure all of the crushes I've had were on straight women, so it was basically a death knell to my love life (or lack thereof).
I've written a series on this blog expressing my love various times (A Letter to My Crush series). It's been a long while since I last wrote one, even when I've had many crushes after then. And considering the fact that I haven't been consistent with this blog since January (reason here), it's been pretty much radio silence with it all. While I might choose to return to the series some day, it remains uncertain.
That said, I've been inspired by TALTBILB to write my own "letters" to the crushes I've had over the years. They'll all be listed here in condensed format; I'll pick the most-pertinent ones which have stuck the longest over time. Will keep the identity of the girls anonymous, as it would be too embarrassing if they found out. Prepare for the cringe of my past self!
1.. "K"
Dear K,
As awkward as I am to admit this, I had a crush on you back in high school. You were two years ahead of me, and you gave off this mature, but approachable personality that 14-year-old me was immediately drawn to. We first met at cross-country practice, and we ran together a couple of times over summer training. You were also an incredible pole-vaulter, even competing in college.
It was your athleticism and energy which attracted me to you– I never told this to you, but I have a thing for athletic people…you were strong, as well as fast, and I guess I admired that about you. I wanted to be like you, but I was also drawn to your sun-glow features and wide smile. Interestingly enough, you got me to write poetry, specifically love poems. I was smitten, and I was sad when you graduated and moved on from high school.
I know you're happily married now, with two adorable kids and equally-adorable dogs. I am sure you're an incredible mom, as I remember your caring nature in high school. I no longer have feelings for you, and I'm happy for how your life's turned out. Wishing you nothing but the best in the future, wherever it takes you.
Take care, 
Your cross-country sweetheart
2. "A"
Hello A,
We no longer talk at all, and I've long ago stopped crushing on you. But I still remember when I couldn't stop thinking about you. We first met in our last semester of first year in college, when we took the same Genetics course. Technically, we'd been in the same course since the fall, but I hadn't paid attention to you until we got into the smaller-group seminars.
I first started noticing you, because you'd always look at me whenever I entered the classroom. And I didn't know what to think of it: were you just being nice or was there something more to it? Considering the fact that I'd just figured out my sexuality just two years prior, then 19-year-old me was still new to the LGBTQ+ world.
Both of us spent that entire semester not talking at all, only with those uncertain glances exchanged. Wasn't until the following year that you happened to live a floor below me in the same dorm building, and I would see you often in passing. What started as merely exchanging "hellos" turned into eating together at the dining hall. I soon found out you were straight, and you later got a boyfriend, which quickly ended my crush. Hope all's well with you, even after all of these years!
Sincerely,
Your fifth-floor neighbor
3. "N"
What's up, N,
It's been over a year since we last talked, and I'm still healing. I knew you were a notorious heart-breaker– guys and girls alike– but I still fell for you. You were a sexy mystery that I wanted to know more about, and you took me on a dangerous ride (several times) throughout my last year of college.
You were also an amazing writer– I think I fell in love with your works as much as your beauty. A "beautiful disaster," as one might call it. You were battling your demons, and I couldn't help but be drawn to that forbidden aspect of you.
It was all too much, N: your demons, emotions, flakiness. You didn't value me as much as I'd valued you. I had to break it off last year, because I couldn't deal with it anymore. I hope you're happier now on the other side of the country, with a stable job and life. Perhaps I'll completely heal to talk to you again, but when we're both stronger. Time will tell.
Cheers,
Your ride-or-die
4. "F"
Salut F,
"F" is for French. Which you are. And probably the first Frenchie I actually got feelings for, even when I knew you were way out of my league. I am not "your type," and I will never be. So I dealt with my feelings early on in our friendship, and it's been great as being just friends.
It's no doubt you're pretty. And objectively so. I'm sure many men (and women) have told you that. But you're also funny and really sweet– I find your slight awkward shyness endearing. And your geekiness for all things Marvel makes you all the more attractive– I might not be a Marvel (or DC) fan, but I love someone who's geeky. Which you are!
We've had a few meetups since we first met in November. It's been all about the bars and parties each time, and I've enjoyed them. I like how, despite your busy schedule, you take the time to come out and see me when I'm in town. You're the true MVP, even if it's platonic. I think it's better that way. Hope to see you again whenever I return to France!
À bientôt,
Your American party gal
5. "R"
Hey R,
Where to start…maybe six years ago? Can't believe it's been that long. Just when I think I'm over it, you pop into my life and the emotions come flooding back. How do you do it? How do you make me feel all of these intense feelings?
I admit, I am weak for tall, dark-haired girls. Especially if they're nice. You fit the mold, and you go beyond that, too. It's unbelievable just how kind and selfless you are to others, willing to take the time out of your packed day to commit to a worthy cause. From helping the disabled to protecting the environment, you do it all.
Even if we were on different continents, we somehow even managed to meet up there. It was just a few weeks ago that we met in Europe, just before I left. Lots of crisscrossed paths over the years, and it's crazy that I haven't told you how I've felt about you– confused, but intrigued. Maybe our paths will cross again some day…only fate will decide that for us.
See you (maybe) soon,
Your global soul-mate
— The Finicky Cynic
Check me out on Facebook! https://www.facebook.com/thefinickycynic