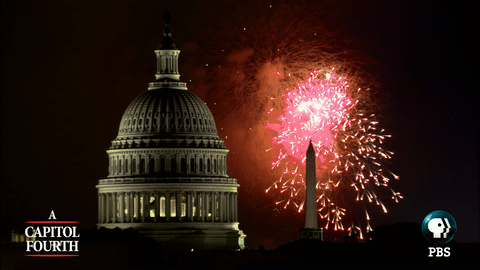 Happy Independence Day, USA!
July 4th is the day to celebrate the country's separation from England in 1776 (although technically, the exact date is disputed, as some people claim that the "real" independence day is a few days after, or even over a month later). It's the day when people get the day off from work to spend time with family and friends, grilling hamburgers and watching the fireworks at night. Of course, you'll also put up American flags in front of your house to show patriotism to your country.
This marks my second year away from home in the U.S.– I was traveling in South America last year, while this year I'm also traveling, albeit in Europe. This year is also the first since 2014 that I haven't been with my family, either. Crazy to believe that I'm not home for the celebrations, let alone with loved ones…all the same, I know that I'll have the chance to celebrate the 4th of July the following year!
I wish you all a wonderful time with the celebrations, and be proud to be American! Take care. 🙂
— The Finicky Cynic
Check me out on Facebook! https://www.facebook.com/thefinickycynic