Happy Saint Paddy's Day, everyone!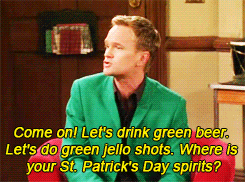 Yes, it's another year in which we all pretend to be Irish and find any excuse to drink our weight's worth of alcohol. From Guinness to Jameson, there's no limit to the amount consumed on this raucous holiday.
Considering that I've been pretty lame at socializing for over a month (i.e. I find excuses not to go out on the weekends: too tired, too much school work, etc.), I've taken it upon myself to head out this weekend with friends. Basically, it's just a "piss-up" kind of night (as my British friend puts it), but hey, why not do so with people I know? Despite being apprehensive about possibly running into my students at bars, I ought to put aside that fear and just enjoy myself.
Granted, Saint Patrick's Day falls on a Sunday this year, so I can't afford to stay out too late on Sunday, as I have work the next morning. I don't desire to show up to work hungover, but I have somewhat of a strong inkling that my students might…we shall see!
Any case, enjoy your own celebrations, and don't get too carried away! 😉
— The Finicky Cynic
Check me out on Facebook! https://www.facebook.com/thefinickycynic