Bonjour!
Paris…the city of Lights, the city of Love…it's the destination of marriage proposals, study-abroad students, and those who simply are starstruck by Parisian culture. Interestingly, I've had a love-hate relationship with it since I first studied abroad there in college, but over time Paris has won me over slowly with its effortless, architectural beauty and things to see. Seriously, it'll take a lifetime (or more) to see everything there is to see in the French capital!
Although I've visited Paris at least a dozen (more like two dozens) of times, I always seem to forget to visit some place in the city. As I'll be returning to it in two weeks time, I thought that I would list a few places I'd like to check out once I'm back! Enjoy. 🙂
5 Places I Want to See in Paris
1. Fondation Louis Vuitton— an impressive building located in the 16th arrondissement of Paris, this art and cultural museum is an architecture-lover's dream. Asymmetrical, innovative, and modern, I'd say that it's worth a stop by to admire it's unconventional beauty!
2. Café de la Rotonde— once frequented by Pablo Picasso and other artists/writers of the interwar years of the early 20th century, this brasserie is now a tourist's haven for over-priced, but mediocre food (as I'm told). While I'd go out of my way to avoid mediocre food anywhere, I'm more interested in checking out the restaurant's interior, as it's supposed to look historically-stunning. Even if means ordering an expensive cup of tea, I'll do it!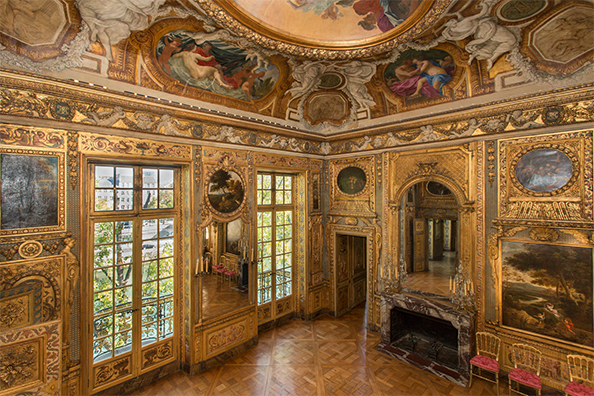 3. L'hôtel de Lauzun— What makes this gorgeous hôtel so difficult to visit is that it's by appointment. Not only that, but also there are only specific days to visit it and, since I'm not always in Paris, timing for it is quite the challenge. I doubt I'll be able to go this time, but hopefully sometime thereafter!
4. Le Train Bleu— On the topic of historic and dazzling restaurants, this gem is just located in Paris' gare de Lyon, where I usually take my trains to and from where I live in France. Never heard about this gem until a quick search on the Internet– even if I don't opt to dine at this seemingly fancy establishment, at least I can hope to take a photo!
5. Waly-Fay Senegalese Restaurant— Interesting choice, you might say, for a night out for dinner. But a friend who'd visited Paris in the summer recommended it to me, and I, being an adventurous eater, would like to give it a try! I'm sure it'll be delicious in the end. 🙂
…et voilà! Those are just a few things I'd like to check out when I return to Paris. Let me know what you'd like to see, should you be visiting the French capital. Have a good day otherwise, bloggers!
— The Finicky Cynic
Check me out on Facebook! https://www.facebook.com/thefinickycynic