Greetings, bloggers!
Not too long ago, Melissa from The Bookish Wanderer did this neat tag, "The Cake Book Tag." After reading her responses, I was inspired to do it. With its cake and book-themed questions, what's there not to like besides desserts and literature! Sounds like a match made in heaven!
(for a similar post, check out my Cookie Book Tag here)
Without further ado, here are the questions!
The Cake Book Tag
1. CHOCOLATE CAKE (a dark book you absolutely love)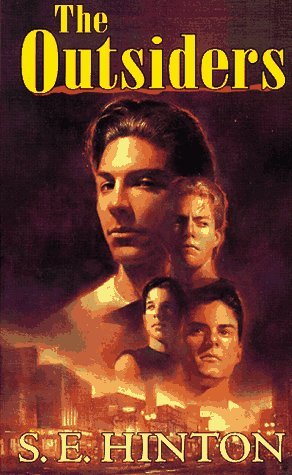 The Outsiders by S.E. Hinton
While I wouldn't go as far to say that The Outsiders is that dark of a book, I would say that it's more so "gritty" about the struggle between low-class and high-class youth. Although such types of books aren't my usual cup of tea, I was really drawn in by Hinton's writing style, which is very much character-driven: with icons such as Ponyboy, Johnny, and Dallas taking control of the novel, it makes for an addictive, page-turning read that can appeal to any reader, boy or girl alike.
2. VANILLA CAKE (a light read)
Best Foot Forward by Joan Bauer
As a sequel to Bauer's Rules of the Road, this novel is lighter in comparison as it documents protagonist Jenna's junior year of high school while working in a shoe store. Nothing too dramatic happens in the novel (except a shoe company scandal), and the pacing of it is smooth throughout, even tranquil. I'd say it's your run-of-the-mill everyday general fiction kind of YA novel, and I pick it up to read while on long-haul rides to pass the time.
3. RED VELVET (a book that gave you mixed emotions)
I Hate MySelfie by Shane Dawson
Now, I've discussed this autobiographical book in my summer reading list post here, but all the same, it merits discussing once more. I used to subscribe to Shane Dawson on YouTube when I was younger, but have since stopped watching his videos, which I deemed offensive to minorities, the disabled, and so forth.
His book is not less offensive than his YouTube channel, but still, I found myself laughing at the humor in it. What I think makes up for his crude, white-trash behavior is self-deprecation, meaning that he's aware of the offensive things he says and makes up for it by also bashing himself. Not to say that doing so is 100% excusable for what he's done otherwise, but in any case, I have a love-hate relationship with this book.
4. CHEESECAKE (a book you would recommend to anyone)
The Thief Lord by Cornelia Funke
Even though it's a children's novel, The Thief Lord nevertheless holds a wistful charm of magic and youth, all the while set in romantic Venice that's sure to captivate readers no matter what. Funke writes some of the best prose yet in this novel, really creating a sort of parallel world for Prosper and Bo to escape into and away from the harsh reality of their orphan statuses. It's over 300 pages long, but an easy page turner– within a few hours, you'll be done with the novel and be wanting more!
5. COFFEE CAKE (a book you started but never finished)
Walden by Henry David Thoreau
I'll be honest and say that I never was the one for reading essays, so I have no idea what possessed me to pick up Walden back as a teenager. Perhaps I was on a classic literary kick and wanted to test my abilities with non-fiction. Alas, I barely made it through page five of Walden and over a decade later, I've yet to return to it (maybe if I get into transcendentalism, like Thoreau himself).
6. CARROT CAKE (a book with great writing)
My Antonia by Willa Cather
I also discussed this novel in my summer reading post here, but once more, I have to discuss this book again. Noted as a "prairie novel," Cather's novel is absolutely bursting with aesthetic imagery and romanticism on every page: it depicts the vast unknown of middle America, one in which is a representation of tradition and progress, the latter seen through industrialization throughout the 19th and 20th centuries. The book's ability to make sense of this change, along with holding onto nostalgia for the "good ol' days," has manifested itself it some seriously-beautiful prose that every writer should aspire to achieve in their own writing.
7. TIRAMISU (book that left you wanting more)
Gravity by Leanne Lieberman
I've must have discussed this novel at least three or four times in separate posts, but all the same, it's a book which has intrigued me since my teenage years. Reflective, intense, and sexy at times, Gravity is a book that I see as both perfect as a single novel AND having a potential sequel to: perhaps in a way I'd like to see Ellie older and wiser, more comfortable in her sexuality and maybe have the courage to start a relationship or come out to her parents. It's a wishful thought, so Mrs. Lieberman, if you're reading this, I'd like to see if there's a chance for a possible Gravity sequel!
Any case, that's it for me! I encourage all of you to do this book tag, as I'd be interested in reading your answers. Otherwise, have a good day!
— The Finicky Cynic
Check me out on Facebook! https://www.facebook.com/thefinickycynic