Greetings, bloggers!
As a queer individual, I can say that I have a lot of, well, queer crushes. Not only that, but also I'm on Youtube way too much to be considered productive, especially when I actually have shit to do (e.g. freelance writing, planning lessons, sleeping, etc.).
Recently, I came across a video from a Youtuber whom I'm subscribed to. Also queer and proud of it, MissFenderr's "MY LESBIAN YOUTUBER CRUSHES (also the end of me)" struck a chord with me, with its adorable, fan-girling moments that remind me so much of…me! You may not believe it, but deep down, I am a fan-girl for all things cute and queer. ❤
That said, I was inspired to do my own version of the video tag (as stated by Alayna, aka "MissFenderr" herself), but in blog form. Even if you're not queer, hopefully you'll find this post entertaining as I'll probably make a fool out of myself gushing about these lesbian/queer Youtubers whom I love, especially those who are of different racial and gender backgrounds. Again, I don't do this often, this "fangirling," so hope you get a kick out of this!
All right, let's get to it!
My Queer Youtuber Crushes (in alphabetical order)
1. Alex Shillington. Now, I've talked about this Aussie cutie in a previous "Woman Crush" post, but she bears reiterating! Her channel consists of her mostly talking about queer representative in the media, in her weekly "Lez Talk" series, which I follow religiously. After all, it's the only way I can get queer news when I'm too busy to look them up myself! Shillington's commentaries are hilarious as well, if not downright adorable: essentially, she rambles and giggles her way through them, in a fangirling way that leaves me smiling. Seriously, if she's not taken yet, I call dibs! 😉
2. ASkylitAvenue. Oh, c'mon! Who could resist that smile? ASkylitAvenue (real name: Tanya Zhang) is a Canadian Youtuber who, just a few months ago, came out as a lesbian and since then has been making videos that promote the LGBTQ community, as well as self-love and acceptance for oneself, should one decide to come to terms with their sexuality. Other than that, her bubbly personality is infectious and her rad sense of style really resonates with me. Love her tattoos, love her stories…and her Corgi, of course!
3. Lesbiasianz. Comprising of Lina (left) and Diana (right), this lesbian power-couple make for an extremely attractive (and hilarious!) duo. Whatever video they put out, I watch it. From their silly girlfriend tags to their travels around the world, they're nothing but a bundle of energy and fun, of which I can totally get on board with. Did I already mention that they're attractive af? Seriously, I want their flawless complexions!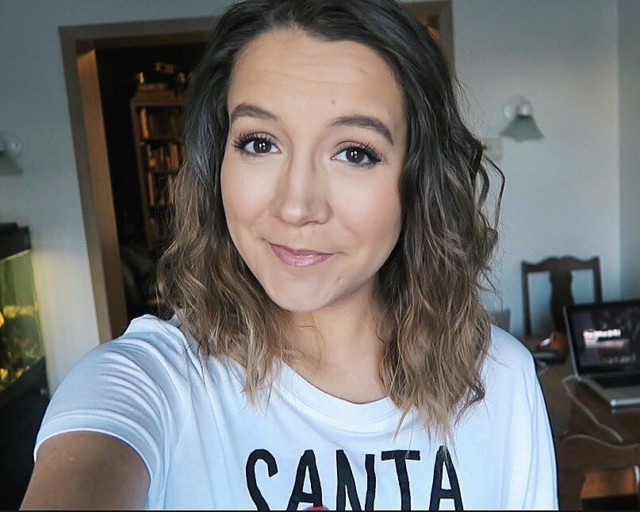 4. MissFenderr. Another Canadian beauty, MissFenderr (real name: Alayna Fender) is a bisexual cat-lover who's just plain adorable to look at. Her awkward, quirky charm that she puts out in her videos are just so cute that I can't help myself sometimes. Aside from that, her videos on dealing with anxiety, depression, and other mental health issues are well-taken, and in any case, she deserves a solid A+ in my books, if you know what I mean!
5. Riley J. Dennis. I also talk about Riley on my other Youtubers post (and MissFenderr also mentioned her in her own post), but again, is worth repeating! Besides having amazing hair, expressive eyes, and an articulate voice, Dennis is truly inspirational when it comes to her deep, provoking thoughts on current world politics (*ahem Donald Trump), sexuality, mental health, and all things progressive. Plus, she can speak French (she actually taught abroad in France the same year as me), which makes her all the more sexier in nature. It's terrible that she receives so much smack on her Youtube channel, just because of being so out-spoken against Donald Trump and the fact that she's a lesbian, transgender individual. Really, the disproportional ratio of dislikes/likes and hateful troll comments are astounding, and it's no wonder that she's so brave and continues to make videos despite all of this.
6. Sarah Croce. No, those blue eyes aren't fake! They are 100% real, and they belong on one of the most gorgeous queer individuals ever. Croce's eyes hypnotize you, and can melt just about anyone's heart when you stare into them. Besides that, her clever and informative videos on all things lesbian are a pleasure to watch, and I do hope she makes it big one day!
Who are your favorite Youtubers, queer or not? Let me know!
— The Finicky Cynic
Check me out on Facebook! https://www.facebook.com/thefinickycynic