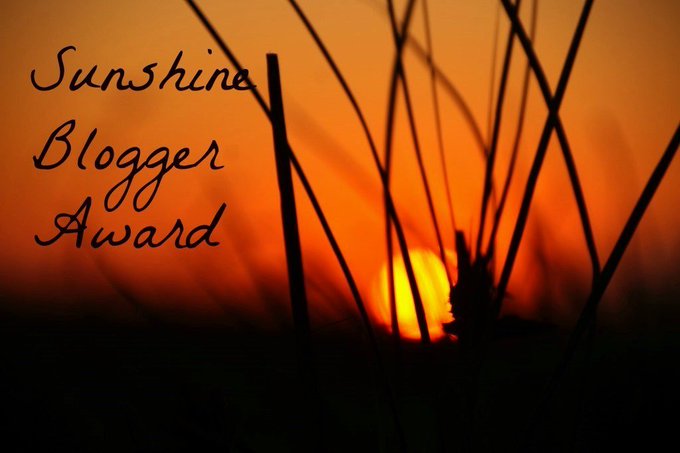 Hello!
Last week, Lenja and Janet from itchyfeetsblog nominated me for the Sunshine Blogger Award, which I was surprised, but happy to have been chosen. I've been following their blog for a while, which centers on the two girl's love for traveling. Their posts are really inspiring, even impressive since they've seen so many places at such a young age!
I thank Lenja and Janet for nominating me. Even though I've received this award before (which I wrote about in this post), it's been over 1-1/2 years, so I'm sure that my perspectives on questions have changed, let alone with my responses. Plus, I enjoy doing these types of posts, so why not?
Without further ado, let's get to it!
The Rules
-Thank the person who nominated you in the blog post and link back to their blog
-Answer the eleven questions sent by the person who nominated you
-Nominate eleven blogs to receive the award and write them eleven new questions
-List the rules and display the Sunshine Blogger Award logo in your post and/or your blog
The Questions
1. What is your motivation for keeping up a blog and what inspired you to start blogging? My motivation to keep up a blog is to let out the creative juices inside of me. I've said this before in previous posts, but in all of my 3-plus years of blogging, I've never received writer's block; there's so much I want to say that I normally can't do in real life due to my anxious, introverted self, so expressing it on this blog helps me reflect and put my thoughts down coherently and neatly.
2. What did you want to become growing up and what are your thoughts on that now? During high school, I had aspirations of being a pharmacist or nurse, but eventually gave up on that dream when in college after finding out that science wasn't for me. I don't regret giving up on it, considering that I'd believed more in the financial stability versus the passionate aspect of it. But if science is your passion, then I'd say go for it- just wasn't for me!
3. If you had to spend the rest of your life in one place, where would it be? To live, at least, I'd say either in Los Angeles (my hometown) or somewhere up in Canada, with the blend of nature and city, as well as a government that isn't in shambles at the moment (*ahem Donald Trump). But I don't know for certain if I want to live in either of those places for the rest of my life, since I love to travel and discover new places. Perhaps by doing so, I can find another place that I could call my home.
4. If someone told you, that tomorrow you could go to any place around the world for free, where would you go? Iceland! Considering that flights there from continental Europe are expensive, it would be nice not to worry about paying for a pricey flight and instead save the money for spending once you arrive there.
5. What is a book you would recommend to everyone and why? Staying Fat for Sarah Byrnes by Chris Crutcher. I think every teen/young adult should read this book at least once in their life, just because it touches on so many critical issues in society, from trauma and abuse to love and acceptance. Plus, the writing style is incredible, serious and witty at the same time. I've loved it since I was in high school and I encourage you to check it out.
6. If the fire alarm would go off and you had only time to take three things with you, what would it be? My smartphone, a jacket, and my teddy bear from my childhood.
7. What is a quote you live by or a quote you want to live by? "The real voyage of discovery consists not in seeking new landscapes, but in having new eyes" – Marcel Proust.
8. If you could pick a song for the soundtrack of your life, what would it be? "Raise Your Glass" by Pink comes to mind. Again, it's from high school, and I think it's message of being who you are really resonates with those going through hard times. Whether an angsty teen to individuals of different races and sexualities, this song is empowering and uplifting, not to forget super catchy!
9. What is something you do, to release stress? Write…a lot. Or, in a worse sense, just procrastinate on the work by going on Facebook or watching Youtube videos. But let's just stick with writing, okay? Sounds better that way.
10. If you were given the chance, what would you say to your seventeen year old/teenage self? Don't let the temptation of a financially-stable career dictate what you decide to pursue in college: if you're not good or passionate in it, then it's not worth the pain and struggle in the long-term.
11. If you could say something to everyone in this world, what would it be? Have respect for others, be honest with others.
…all right, that's about it! I'm actually not going to nominate any bloggers in particular out there, just because it wouldn't be fair to everyone who reads this post, so if you want to answer the questions I ask below, feel free to!
My Questions (for you):
1. What's one food that you could never get sick of eating?
2. Do you think it's better to be able to speak effectively or write well to get by in life?
3. Who's someone you have a thing for, celebrity or not?
4. What's a weird habit of yours?
5. What's your opinion on social media today?
6. Cold or hot weather?
7. What's one place you've been to that you can imagine yourself returning to multiple times without getting sick of it?
8. Beach or snow?
9. What are your thoughts on youth today?
10. What's the best way to get rid of prejudice?
11. One word to describe your life.
Have a good day, bloggers!
— The Finicky Cynic
Check me out on Facebook! https://www.facebook.com/thefinickycynic